Work starts this month to connect the new community of Orchard Grove to the wider area, with a new roundabout being created on the A38. The new junction will be built on the stretch of road at Higher Comeytrowe – between Rumwell and Galmington – and it will join the new arterial 'spine road' that will run through the development.
Construction will begin on the new roundabout on 23rd August 2021 and it is expected to finish in the New Year. The junction is needed to create a route in and out of the new community, which will have 2,000 homes, a school, local centre and other amenities. New roads are intentionally being created early in the project to ensure vital infrastructure is there for the first residents from day one.
As a result of careful and extensive planning, there will be minimal diversions and no planned day time road closures during the project. The works will take place at night between 7pm and 7am, with temporary traffic lights operating overnight during part of the project. As the work nears completion, some work will take place under planned night-time closures.
An illustration has been developed by the Orchard Grove Consortium to show the new junction and the stages to expect during its construction. Those travelling along this route should expect three distinct phases of activity:
Phase one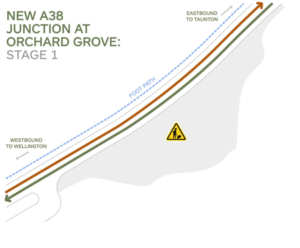 Both eastbound and westbound traffic will continue as normal on the existing A38, but alterations will be made to road line markings on the carriageway. Work to build the new roundabout will begin and will be visible from the road.
Expected timings: August-September 2021
Phase two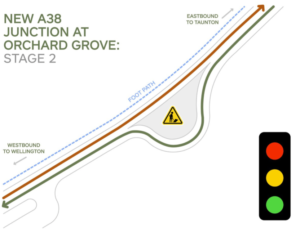 Westbound traffic will be diverted around one side of the new roundabout, while eastbound traffic will continue as normal. Temporary traffic lights will be in operation for a short period of time overnight, between the hours of 7pm and 7am.
Expected timings: September-October 2021
Phase three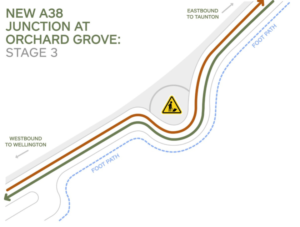 Eastbound traffic will also be diverted around the new roundabout. Temporary pedestrian crossing points will be in place. As the new junction nears completion, the final surfacing works will be completed at night during planned road closures.
Expected timings: November-December 2021
Letters containing this information and images illustrating each phase of work are being distributed to 5,000 homes in the local area signposting people to this website for ongoing updates as the work progresses.
Information and updates will be posted here on the Orchard Grove website including monthly drone videos of progress that include the construction of this new junction.
*Please note: all information is correct at the time of being published but timings may be subject to change*